Drew has been my mentor for over 20 years and he's created some proactive business strategies to become less dependent on 3rd party payers by pursuing a "Blue Ocean Strategy" where there wasn't a lot of competition. Find out how Drew broke the dependency on 3rd party reimbursement and created a cash based solution to improve outcomes while finding more freedom, flexibility and growth in his PT business.
Drew received his undergraduate and Physical Therapy degrees from the University of Iowa. He also received a Master's in Business Administration from Ashland College. He has a strong clinical background rooted in the assessment and evaluation of the injured worker. Over the past 25 years he has worked with numerous organizations (large and small) across the country providing organizational solutions in ergonomics, pro-active safety and wellness. His strengths lie in clinical application and systems thinking.
Drew has been active in business his entire career:
1)     He was the co-founder and CFO of Progressive Rehabilitation Associates of Iowa City, IA for 25 years (sold January 2014)
2)     Executive Vice President of Atlas Ergonomics, Grand Haven, MI
3)     Board of Directors, i-Blades, Milpitas, CA
4)     Board of Directors, PT1, Cedar Rapids, IA
Drew is an active member of the American Physical Therapy Association, having served in many roles (state and national) over the years. He is also a member of the American Society of Safety Engineers (ASSE) and Human Factors and Ergonomic Society (HFES). He has spoken to audiences across the country on ergonomic system solutions, injury prevention and corporate wellness.
Drew splits time between Iowa City, IA and Minneapolis with Annie, his bride of 37 years. Drew and Ann have two grown children, Katie, a physical therapist in Minneapolis and Doug, a bond underwriter for EMC Insurance in Des Moines. Finally, and perhaps most importantly, Drew and Ann became grandparents for the first time this past year… they are thoroughly enjoying this next chapter of their life together!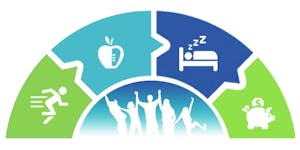 P.S. If you haven't checked out the upcoming 2018 Lifestyle Medicine Seminar I'm co-hosting in St. Louis on July 19th, 2018 with nationally recognized preventative health and business leaders Lynn Steffes, Jamey Schrier, Russ Certo and Staci Lyons, check out 
www.lifestyle-medicine-seminar.eventbrite.com
!