Mike's two decades of experience in integrating lifestyle medicine into his daily practice and all he's doing to improve patient outcomes is quite inspiring. We shared what Mike's doing to create population health, emerging trends and opportunities with lifestyle medicine that don't require a lot of time, staffing or overhead expense to implement but that create a huge ripple effect in a practice and the health professional lives who are involved with it.
Mike Eisenhart is a husband and father of three, a son, a brother to 5 and an uncle to many. Mike is also a physical therapist, a health consultant, Pro-Activity's managing partner and a self-proclaimed mad scientist on the move; a passionate subject matter expert in the realms of injury and disease prevention, as well as human performance and achievement. Mike can usually be found pushing himself (and the status quo) either on behalf of his clients or in an effort to live his personal mission of being a "doer of extraordinary things". 
Mike Eisenhart is a leader in the physical therapy profession having held posts at the local, state and national levels for the American Physical Therapy association, the nation's largest professional association for physical therapists including the role of President of the association's NJ chapter from 2015 to 2017. 
In addition, as one of the profession's top innovators, formally recognized in 2013 for work done on Pro-Activity's Prevention Model, which he pioneered initially in 1999, Mike has written extensively ranging from blogs and trade journals to more formal peer-reviewed publications. His most recent formal work was the chapter "Work Injury Prevention and Management: The Role of the Physical Therapist in Injury Reduction/Prevention and Workforce Wellness" in 2014, on behalf of the national Orthopedic Section of the APTA. 
Professionally, Mike is perhaps most widely known as a passionate speaker/presenter and coach, having lectured on health and prevention to thousands of clients, employers, professionals and students, in audiences both small and large over the years…..and when he's not chasing his kids or logging the swim-bike-run miles, he can be found….sleeping of course.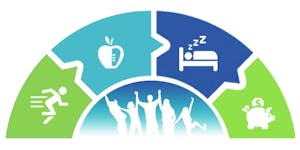 P.S. If you haven't checked out the upcoming 2018 Lifestyle Medicine Seminar I'm co-hosting in St. Louis on July 19th, 2018 with nationally recognized preventative health and business leaders Lynn Steffes, Jamey Schrier, Russ Certo and Staci Lyons, check out 
www.lifestyle-medicine-seminar.eventbrite.com
!